From Factory Fans to Portable Air Conditioners - This is Our History
Since our company was founded and still today we are dedicated in our work to constantly reinvent ourselfs and to continously develop newer and better products that will work easier and that will make your place of work a place of comfort
1947
Yuzo Kawai founds the company that manufacturs and sells parts for household fans in Osaka City, Japan.
1957
The first factory is built in the Ikuno area in Osaka in order to increase the capacity to manufacture parts for fans.
1961
The company is reorganized from private to corporate management with 800.000 yen in capital. The corporate name becomes Suidensha Co., Ltd.
1964
In line with the increase of the sales of the industrial fans, a new factory is built in Sango, Nara prefecture.
1971
"Arrow Roof" - a roof top ventilating fan patented in Japan, U.K., and the United States, is developed and its production is commenced.
1972
The corporate name is changed to "Suiden Co., Ltd".
1973
A new branch office is opened in Fukuoka, extending the market to the entire Kyushu area (Southern Japanese Island).
1980
A new branch office is opened in Nagoya, extending the market to the central part of Japan.
1982
The Osaka Suiden Building is built in Tennoji area. The central office and Osaka branch office are relocated to the new building, which becomes the core office for the domestic sales network.
1988
Taiwan Suiden Co., Ltd is founded to promote international division of labour.
1990
A new factory is built in Kitamura, Tottori city.
Suiden Sanki Service Co., Ltd is established to improve the supply of spare parts.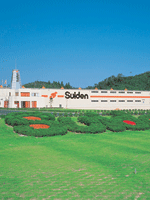 1991
The capital of Suiden Co., Ltd was increased to 367, 6 million yen.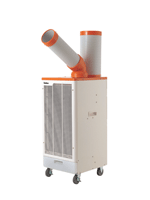 1992
The first "spot air conditioner" is launched. It added variety to the product lineup of Suiden, a manufacturer intending to improve a working environment.
1997
The revolutionizing "Forklift YUSO Sweeper" is developed.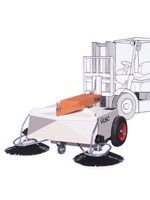 2001
A company system is adopted to revitalize the company.
2002
Yuzo Kawai becomes executive chairman and
Yuji Kawai becomes president and chief executive officer.of Suiden.
2003
Nishiwaki Co., Ltd is incorporated into Suiden Co., Ltd.
2004
Dongguan Suiden Co., Ltd is established as the main manufacturing factory in China.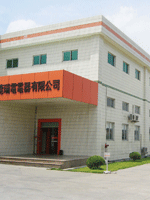 2007
It is 60 years since Suiden was founded in 1947.
2010
Suiden Co., Ltd forms plan for wide international market penetration.