COMPANY INFO
Message
Message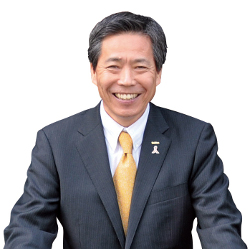 Our purpose as a company is to provide you with products that will improve your working environment and make your work easier.
It has been over 60 years since Suiden was founded in 1947. From then until now, our consistent goal has been to manufacture portable air conditioners, axial fans and other products that provide comfort and ease to working environments. We started with a simple fan designed to relieve the heat in factories during the hot summer months, and have since created a revolutionary product line to modernize today's industrial workplace. A vacuum cleaner that even cleans cutting oil compact and space efficient dust collectors and a range of portable spot air conditioners are just a few of many examples.
Industrial Air Conditioning
As we enter a new era, we consider the next 60 years as a period in which we start anew, aiming at further progress. By constantly renewing ourselves and improving our innovative processes, we strive to offer you even better and safer products that will make your job as easy and comfortable as possible. Here at Suiden, we bring our utmost effort to work with us everyday to create a vital product line that nurtures human ingenuity, and that strives to meet our customers needs to be able to offer the best industrial air conditioning, ventilation and cooling products on the market today.
Yuji Kawai
President
Suiden Co., Ltd.
Outline
Company name
SUIDEN CO., LTD.
President
Yuji Kawai
Founded
March, 1947
Established
March, 1961
Description of business
Manufacture and sale of electrical equipment
Capital
367.6million (From 1, April 1994)
Number of employees
179 (Average age: 38.7 years old)
Executive officers
(Includes operating officers)

Chief Executive Officer: Yuji Kawai
Senior Managing Director: Hideki Matsuoka
Managing Director: Yoshihisa Ueda
Director: Masahiko Nakamura
Corporate Auditor: Takuji Kobayashi
Senior Adviser: Katsutoshi Nakamura
Executive Officer: Kiyoshi Kotani
Executive Officer: Koichi Yasugi
Executive Officer: Seiji Hirosaki
Executive Officer: Yuichi Kawai
Executive Officer: Yuta Kawai

HQ
2-4-24 Osaka, Tennoji-ku, Osaka, Japan 543-0062

Click here for information of domestic branches and factories

Affiliated companies
Taiwan Suiden Co., Ltd.
Dongguan Suiden Electrical Appliance Co., Ltd.
Dongguan Suiden Electrical Appliance Co., Ltd. Shanghai office
Suiden Okamoto Blower Co., Ltd.
Suiden (Thailand) Co., Ltd.
Main banks
The bank of Tokyo-Mitsubishi UFJ, Ltd.
Sumitomo Mitsui Banking Corporation.
The Sensyu Ikeda Bank, Ltd.
The Nanto Bank, Ltd.
Risona Bank Osaka
The tottoribank, Ltd.
Corporate history
| | |
| --- | --- |
| March, 1947 | Yuzo Kawai founded the company in Tennoji-ku in Osaka, Japan, and shortly thereafter introduced the first range of fan's parts for household use in the Japanese market. |
| March, 1957 | Due to increased demand the first factory was built in Ikuno in Osaka. |
| 1958 | Change of business, Suiden launched their first industrial fan. |
| March, 1961 | The company was reorganized as limited company with 800,000yen in capital under the name Suidensha Co., Ltd |
| 1961 | The company acquired the patents in Japan and UK for industrial fan (Swing table) |
| 1962 | The company started to manufacture a safety guard for Sharp Corporation. |
| 1964 | The Nara factory was built in Sango, Nara prefecture, Japan. |
| 1968 | The Nara warehouse was built in Ikaruga, Nara prefecture, Japan |
| April, 1970 | Tokyo branch was established |
| November, 1971 | Suiden launched rooftop fan named arrow roof (acquired patents in Japan, UK, and US) |
| April, 1972 | Osaka branch was established. |
| December, 1972 | The company name was changed to Suiden |
| 1972 | Portable exhaust fan was developed and beginning sales |
| February, 1973 | Fukuoka branch was established. |
| 1976 | Suiden launched foot heating 'Ashi Poka' |
| January, 1980 | Nagoya branch was established. |
| August, 1980 | Toyama branch was established. |
| 1980 | Hiroshima branch was established. |
| 1980 | Suiden launch their first industrial vacuum cleaner |
| March, 1981 | Takamatsu branch was established. |
| July, 1981 | Sendai branch was established. |
| August, 1981 | Okayama branch was established. |
| December, 1982 | The company headquarter building was built in central Osaka |
| December, 1984 | Ryomo branch was established. |
| 1984 | Suiden launched Root top fan. |
| January, 1985 | Atsugi branch was established. |
| 1985 | Shizuoka branch was established. |
| 1985 | Niigata branch was established. |
| February, 1987 | Kyoto product distribution center and Kyoto branch were established in Fushimi, Kyoto prefecture, Japan. |
| 1987 | Suiden launched hot air dryer |
| May, 1988 | Taiwan Suiden Co., Ltd was established to promote the international division of labor. |
| 1989 | Taiwan Suiden Co., Ltd, Taiwan factory was established. |
| October, 1990 | The Tottori factory was established in Kitamura, Tottori city. |
| November, 1990 | 'Suiden Sanki Service Co., Ltd' was established to improve the supply of the repair parts. |
| 1990 | Suiden acquired the patent for Almighty vacuum cleaner in several countries in Europe and US. |
| February, 1992 | Suiden launched their first industrial spot cooler. |
| July, 1994 | Suiden launched 'Gum toru' |
| November, 1994 | Suiden launched 'Moku toru' |
| May, 1997 | Suiden launched forklift vacuum cleaner 'Yuso' |
| March, 1998 | Osaka branch and Kyoto branch were merged. |
| October, 1998 | Suiden merged Nishiwaki Co,. Ltd. |
| April, 1999 | HQ was moved to Nara factory. Nigata branch, Ryomo branch, Atsugi branch and Okayama branch became non-store operation. |
| May, 1999 | The Tottori factory acquired ISO9001 |
| April, 2002 | Yuzo Kawai became chairperson and chief executive officer. Yuji Kawai became president and chief executive officer. |
| 2002 | Dongguan Suiden Co., Ltd. started OEM for industrial fan. |
| 2002 | Suiden launched portable exhaust fan 'Suku Suku fan' |
| January, 2003 | Kitakantou branch (North region branch) was established. |
| April, 2003 | Taiwan Suiden Co., Ltd. was established |
| October, 2003 | Nishiwaki Co., Ltd. was merged into Suiden Co., Ltd. |
| March, 2004 | 'Dongguan Suiden Co., Ltd.' was newly established as the main manufacturing factory in China. |
| 2004 | Okawamoto blower Co., Ltd. was merged into Suiden and changed their name into Suiden Okamoto blower. |
| 2005 | Dongguan Suiden Electrical Appliance Co., Ltd, Dongguan factory was established. |
| April, 2006 | Nara branch was merged with Osaka branch. |
| June, 2006 | Dongguan Suiden Electrical Appliance Co., Ltd. Shanhai branch was established. |
| August, 2007 | The Tottori factory acquired ISO 14001. |
| October, 2007 | Suiden's Mascot 'Hanemu chan' was born . |
| December, 2007 | Dongguan Suiden Electrical Appliance acquired ISO 140001. |
| 2007 | Suiden launched low noise portable exhaust fan. |
| 2012 | Suiden launched electric fence. |
| March, 2014 | HQ function was moved to Osaka HQ building. |
| August, 2015 | Suiden (Thailand) Co., Ltd. was established in Bangkok Thailand. |
| October, 2015 | Nihon Inverter Co., Ltd. was merged into Suiden Co., Ltd. |
| 2015 | Suiden launched infrared heater |
Branches