We provide comfort for a production site,
continuing to offer products that improve comfort
for a working environment.
We stared from a local manufacturer for industrial fan in Osaka, but now we provide various products based on our know-how in Air-conditioning equipment for factory and office environment equipment.
Temperature and air are invisible, thus in a daily life we do not pay much of our attention for.
Furthermore, unlike any other production equipment, our products do not directly contribute for productivity.
However, if factory or office is clean, without dust, at comfortable temperature, employees who work in such environment tend to be healthier thus concentrate more on their work with safety.
What we mean 'comfort' includes the safety of work place. We believe that creating products with high safety is our priority. In our understanding, the safety for workers and comfortable work place reconcile each other and we continue to manufacture our products with this in mind.
How to relate to society
Under the theme "Design the 'Clear' environment", we have developed a variety of products.
Pursuing solutions to environmental issues such as energy waste and noise pollution, we would like to continue our challenge to develop products that contribute to society. One day our customer asked us ' We would like to install industrial spot cooler as for heatstroke countermeasure'. Our product lineup includes industrial spot cooler indeed, however after doing some hearing we eventually proposed industrial fan instead of spot cooler because the factory was not for the entire air conditioning and making air flow by multiple fans was more efficient.
Our conclusion for this case was not only based on a concern for general ventilation but also for energy saving and as a result the customer was glad because of the cheaper electrical bill.
As you see in the above case, our customers tend to ask 'we
would like to make factory better place, not we would like this or that product'. Our task is that hearing their fundamental issues for their working environments and providing optimal proposal to each customer.
Human resource development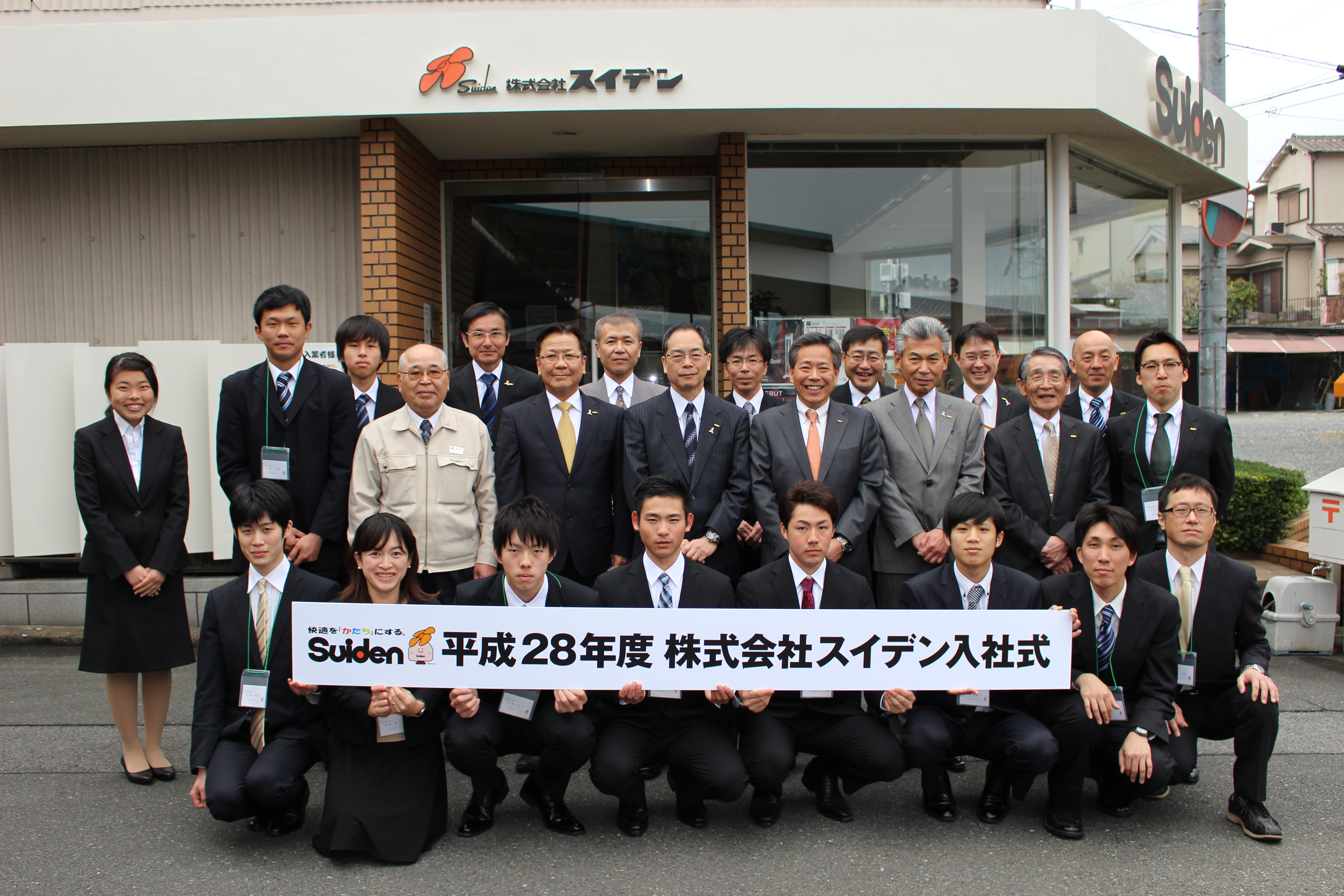 "Company is sustained by human resource", We believe that the development of human resources is the key to develop a company. For example, our company provides its employees with an opportunity to attend study seminars held outside the company. We will continue developing human resources so that the employees can work with a wide vision and awareness as professionals.
BUSINESS
Sales activities
We meet our customer's needs
at sales offices organized throughout Japan.
Knowing our customer is the first thing we do for sales activities. With pride and confidence as a leading manufacturer of general equipment for a working environment, we provide practical products and useful information from the customer's point of view. Another important role for us is to gather information that is helpful in improving our products as well as meeting the needs of the customers. We will provide a rich variety of our unique products that are developed with a new viewpoint under a thorough quality control.
DEVELOPMENT
Product Development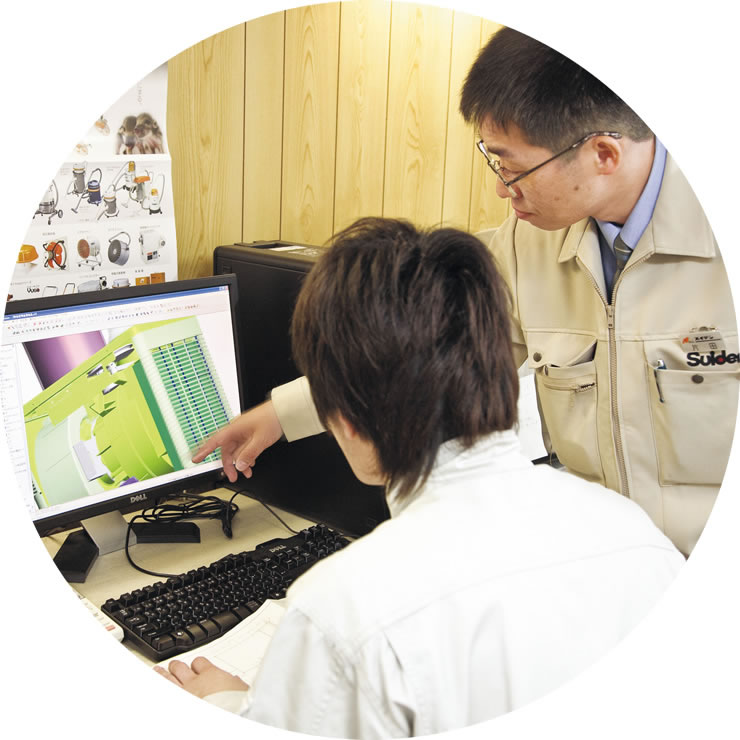 We are making efforts to develop the products that may save energy, maximize efficiency, reduce noise, and contribute to solving the environmental problems. Our pursuit for better product development never ends.
Our vital mission of the product development department is to develop a product that guarantees the satisfaction of our customers. Based on the information gathered by the sales department, we have been developing a variety of products while making the most of our experience and know-how.
Making the maximum use of unfettered thinking, we have achieved an innovative designing for the products and their practicality to meet the customer's needs. Having a strong sense of purpose, we will continue our challenge to develop new products in corporation with the manufacturing factories.
FACTORY
Manufacturing factory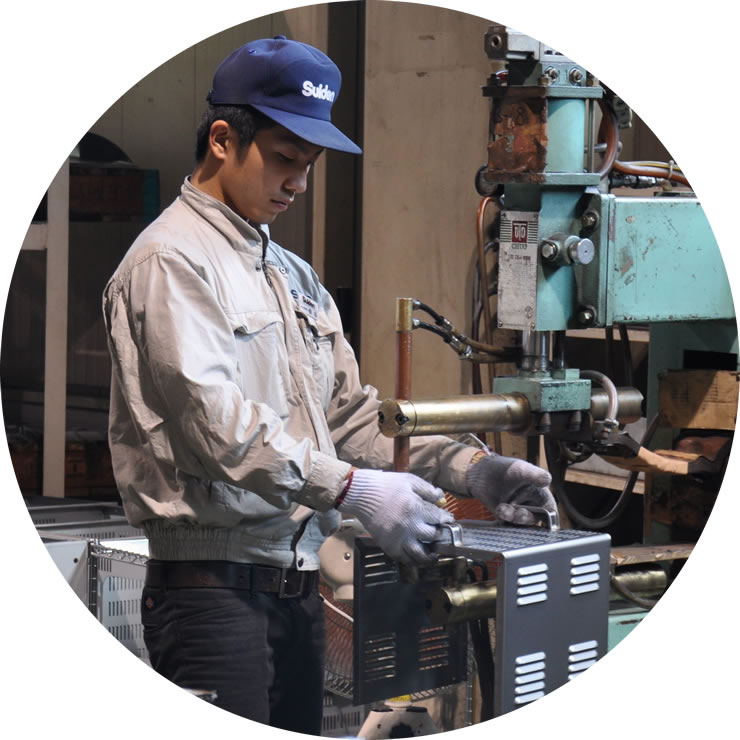 We take pride and delight in manufacturing products that may be used safely by the customers for long periods of time.
In the manufacturing factories, we are capable of manufacturing products with high durability and quality under a thorough quality control. A global network of the factories enabled us to reduce the production cost and to develop unique products of ours in rich variety. In corporation with the product development section, we have always been working on the development of new products. Through building a prototype and conduct a variety of test of it, we will make persistent effort to provide our customers with the developed products of Suiden.